Automated Manufacturing
Powder Microdispenser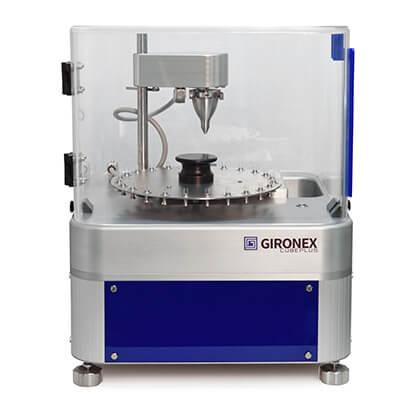 The Gironex Cube PLUS brings Flexibility, Security and Control to precision powder dispensing. Its innovative and dedicated interactive graphical display ensures simple and efficient batch operation and product integrity. Compact and easy-to-use, the Gironex Cube PLUS automated microdispenser is suited to any regulated manufacturing environment requiring automated powder dosing.
Gironex AI Technology
21CFR Part 11 Compliance
Batch & Event Log Recording
Graphical Real-Time UI Batch Display
Batch and Single Mode Operations
Interactive 'Accept' / 'Reject' Dispense Information
Secure Electronic Batch Record Generation
User Account Management with Access level Control
Automated Back-up and Database Clean-up Utilities
Configurable Data File Storage and Network Transfer
CUSTOM OPTIONS AVAILABLE
Gironex Cube Plus Autonomous Powder Dispenser
Tablet PC and Dedicated GUI software
2 x 24 Dial Plates incl stainless steel inserts
1 x 20 Pack of stainless steel dispense hoppers
CUSTOM OPTIONS AVAILABLE
| Gironex Cube Plus | |
| --- | --- |
| Range | 6DP |
| CFR21 Part 11 | Yes |
| Capacity | 24 |
| Mass Range | >1 mg |
| Mass Precision | +/- 1 µg |
| Mass Accuracy | >2% |
| Balance Repeatability | +/- 2 µg |
| Data Entry | Windows Tablet PC |
| Data Output | PDF Report |
| Connectivity | Bluetooth and USB |
| Power | 100-240V 50/60Hz |
| Dimensions | 410 x 410 x 600mm |
| Maximum Balance Load | 20g |
| Instrument Weight | 20Kg |



Small in size but powerful in performance the Gironex Cube range is suited to any environment with simple operation, Add Powder, Add Vials or Capsules, Enter desired weights and Press Go.
ADD POWDER
The novel dispense heads are designed to deliver unlimited precise and accurate powder dispensing.
ADD VIALS
Flexibility to easily accommodate a range of vials and capsules, the GiroNEX Cube automatically dispenses milligrams of powder accurately, precisely and safely with unlimited dispensing capability.
ADD DATA
Autonomous weighing at the touch of a button, the state of the art wireless touch screen windows tablet provides simple data entry for the same or different mass dispense requirements, with unique sample identification.
A range of standard accessories are available to ensure efficient automated powder dispensing,
whilst a range of inserts and dial plates adds versatility for capsules and vial applications.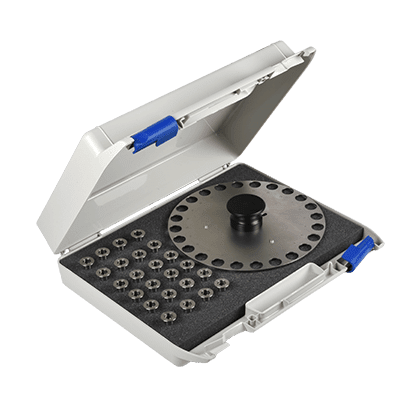 24 Position Dispense Plate